When I left my day job to become a full-time writer back in December, I made a sort of promise that I was going to use all the extra time* I now had to do things like exercise and catch up on my staggeringly huge TBR pile. I didn't really make a lot of headway with either for a few months as I was determinedly slogging through the first draft of a new manuscript, and felt guilty for not devoting every single second to what was now officially my 'work'.
To con myself into leaving my writing cave for at least an hour a day, I decided to combine exercise with attacking my TBR, and so started going on long walks while listening to audiobooks. The results of this have been:
1) I feel much fitter.
2) I am not in the slightest bit thinner, except for my ankles.
3) I have completed my Goodreads Reading Challenge to read 50 books this year (the audiobooks were a big boost to my total.)
4) I have been listening to books outside my usual binge-zone because I like a bargain, and tend to snap up audiobooks when they're on offer even if I might not read the book.
This being the case, I'm calling my audiobook-walking regime a huge success, and I'm going to keep at it. And here are my 3 absolute favourite audiobooks to date (click the images to go to their Goodreads pages, from whence I nicked the blurbs):
DUPLICITY by N. K. Traver
(Definitely one of my favourite reads this year. Maybe ever. I loved the characters, the plot, the crazy premise - all of it. I fangirled over the author and checked that there was going to be a sequel, and lo! There is. Colour me happy!)
A computer-hacking teen. The girl who wants to save him. And a rogue mirror reflection that might be the death of them both.
In private, seventeen-year-old Brandon hacks bank accounts just for the thrill of it. In public, he looks like any other tattooed bad boy with a fast car and devil-may-care attitude. He should know: he's worked hard to maintain that façade. With inattentive parents who move constantly from city to city, he's learned not to get tangled up in things like friends and relationships. So he'll just keep living like a machine, all gears and wires.
Then two things shatter his carefully-built image: Emma, the kind, stubborn girl who insists on looking beneath the surface – and the small matter of a mirror reflection that starts moving by itself. Not only does Brandon's reflection have a mind of its own, but it seems to be grooming him for something—washing the dye from his hair, yanking out his piercings, swapping his black shirts for … pastels. Then it tells him: it thinks it can live his life better, and it's preparing to trade places.
And when it pulls Brandon through the looking-glass, not only will he need all his ill-gotten hacking skills to escape, but he's going to have to face some hard truths about who he's become. Otherwise he'll be stuck in a digital hell until he's old and gray, and no one will even know he's gone.
READY PLAYER ONE by Ernest Cline
(I'm a massive nerd when it comes to sci-fi, and this ticked every single box for me - including having the awesome Wil Wheaton as the narrator. Computer games, classic and cult science fiction references, and epic robot battle simulations...? I'm in!)
In the year 2044, reality is an ugly place. The only time teenage Wade Watts really feels alive is when he's jacked into the virtual utopia known as the OASIS. Wade's devoted his life to studying the puzzles hidden within this world's digital confines, puzzles that are based on their creator's obsession with the pop culture of decades past and that promise massive power and fortune to whoever can unlock them. When Wade stumbles upon the first clue, he finds himself beset by players willing to kill to take this ultimate prize. The race is on, and if Wade's going to survive, he'll have to win—and confront the real world he's always been so desperate to escape.
SOULLESS by Gail Carriger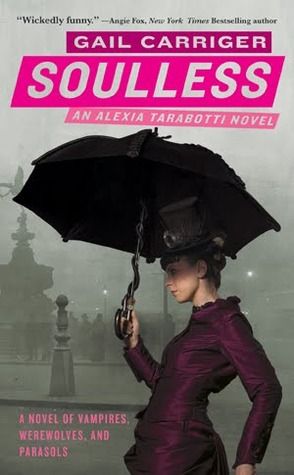 (This is one I might never have gotten around to if I hadn't got it on audiobook, and I would have missed out on a fabulous book! I loved the main character, Alexia, and the tongue-in-cheek humour throughout. I'll definitely be continuing the series.)
Alexia Tarabotti is laboring under a great many social tribulations.
First, she has no soul. Second, she's a spinster whose father is both Italian and dead. Third, she was rudely attacked by a vampire, breaking all standards of social etiquette.
Where to go from there? From bad to worse apparently, for Alexia accidentally kills the vampire--and then the appalling Lord Maccon (loud, messy, gorgeous, and werewolf) is sent by Queen Victoria to investigate.
With unexpected vampires appearing and expected vampires disappearing, everyone seems to believe Alexia responsible. Can she figure out what is actually happening to London's high society? Will her soulless ability to negate supernatural powers prove useful or just plain embarrassing? Finally, who is the real enemy, and do they have treacle tart?
____
I'll update with any future audiobook recommendations in a few months. In the meantime, if you have loved an audiobook and want to point me in its direction, please do so in the comments! My ankles will thank you.
Kat out x
*
extra time
does not exist. It is a mythical creature that is consumed before it ever truly comes into being by chores, work, and the occasional unexpected nap.