Last weekend, I zoomed down to London for the UK's first ever YA literature con, YALC. It was being held as part of the larger London Film and Comic Con, and the crowds were HUGE and kinda spectacular - my buddy Freddie (above) was only one of scores of people there cosplaying.
I had a fantastic/hilarious/exhausting/fun/sweaty/amazing time there, and judging by the blog posts that have already gone up about it all over the interwebz, I'm not alone.
Here's the skinny.
SATURDAY
Dawn & Me, being well serious, yo.
My author pal Dawn Kurtagich, whose novel THE DEAD HOUSE comes out next year (and sounds bloody amazing!) trawled the con with me for the weekend, and it was so exciting to hear people talking about her novel. It's going to be HUGE, people.
Penny Thomas from Firefly Press was also there, and it was lovely catching up and talking about exciting Blackfin Sky-type things with her. All the Blackfin Sky goodies that were being given out in the publishers' area flew out with a quickness, which was great to hear!
L-R: Marcus Sedgwick, Emma Vieceli,
Ian Edgington, Sarah McIntyre
Dawn and I arrived early Saturday afternoon - just in time to catch the last part of the panel 'Going Graphic: from novel to graphic novel', which was interesting, although I unfortunately missed most of it (what with trains and zooming and such). I have to say that Sarah McIntyre (chairing, far right) looked AMAZING in her cosplay outfit, and was still looking immaculate in it that night at the author party at Earl's Court.
Later on, I caught the Heroes of Horror panel with Charlie Higson (who I still fangirl over from his days on The Fast Show - as well as his zombie novels, of course), Derek Landy, Darren Shan, Will Hill, and chaired by Rosie Fletcher. I loved this panel, although I've only read Charlie Higson's novels, but will definitely be picking up the others! They talked about the differences between YA and adult horror -- the graphic violence/gore aspect, the sex etc. -- and about how horror is a great gateway genre to go from YA to adult reading generally.
L-R: Rosie Fletcher, Charlie Higson, Darren Shan, Will Hill & Derek Landy
That was the last panel of the day, and after that we stuck around for the author party in a secret green-roomy type area of Earl's Court. I got to meet (read: awkwardly fangirl over) quite a few authors, including C J Skuse, Sally Green, Alexia Casale, and the wonderful Queen of Teen himself, James Dawson.
After the party, Dawn and I went to meet up with some author and blogger pals for drinks. I met the lovely Luna of Luna's Little Library, who was the first blogger ever to review Blackfin Sky - and she is just as lovely as I'd heard! I also got to catch up with all-round fabulistas Tatum Flynn (taking the photo) and Marieke Nijkamp, and a fab gang of folks I met for the first time after chatting with them on twitter.
Oh, and this happened.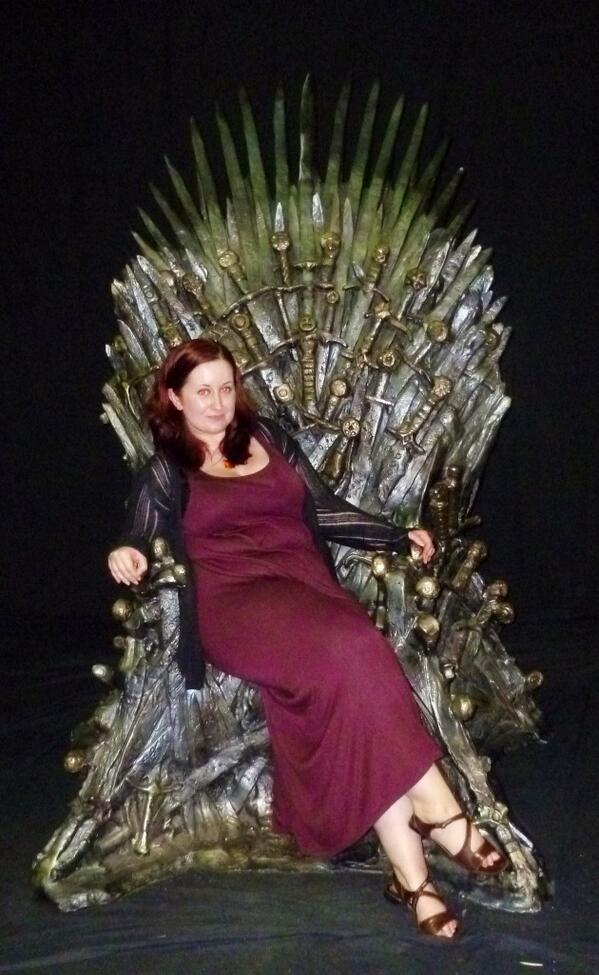 Seizing the Iron Throne. As you do.
SUNDAY
The 'I'm too sexy for this book' panel, featuring Cat Clarke, Non Pratt, Beth Reekles, and James Dawson, was absolutely hilarious! Phrases like "alternative hole use" and "when you're writing, sometimes you just have to hammer it out..." kept the packed room in stitches, and I have to say this was my favourite panel of the entire con.
L-R: James Dawson, Cat Clarke, Non Pratt & Beth Reekles
We managed to catch one more before our train took us back up to North Wales, and it was certainly one to watch! The 'Crossover: Not just for kids' panel got a little... er... contentious, but still very interesting.
L-R: Nick Lake, Anthony McGowan, Meg Rosoff, Matt Haig
& David Maybury (who might be a little obsessed with Stan Lee.)
I queued up afterwards to get a signed copy of Matt Haig's ECHO BOY, which I'm just dying to read, and snagged some more signed books and swag to take home.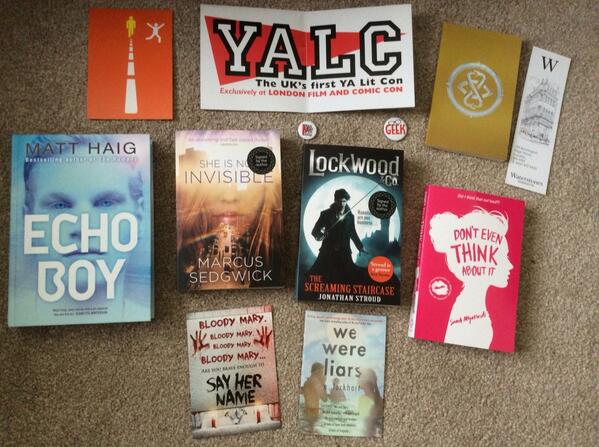 A few trains later, we were back home in North Wales, thoroughly exhausted. I had a brilliant time at YALC, and really hope there will be another YALC in 2015!

Til next time, London...

Kat out x